UPCOMING EVENTS: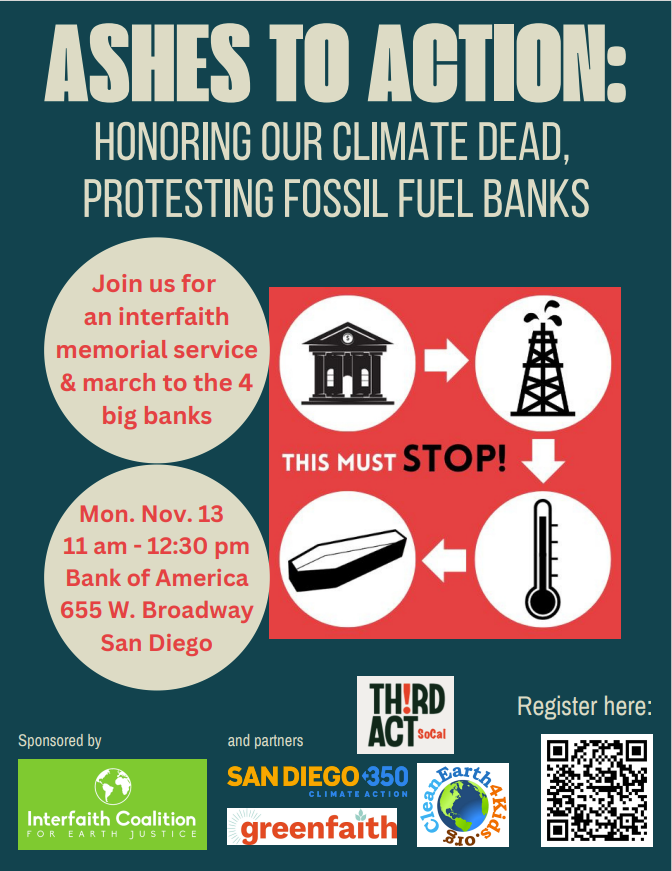 From Ashes to Action: Honoring Our Climate Dead, Protesting Fossil Fuel Banks
In the past fifty years two million people have died from extreme weather events most of which were exacerbated by climate change. Many more will die if we do not transition speedily to renewable energy. From 2016-2022 four big US banks–Bank of America, Chase, Citibank, and Wells Fargo–have poured over one trillion dollars into the fossil fuel industry enabling its extraction and burning of the dirty energy that drives climate change. THIS MUST STOP!!
To protest this blood money and honor those who have died (most of whom are from developing nations), a memorial service and protest will be held before each of these four banks while processing with a (mock) coffin to symbolize the mounting casualties and the banks' culpability.  On Monday, November 13 at 11 AM, we will meet before Bank of America at 655 W. Broadway in downtown San Diego and march to the other three.  Please register here for this crucial witness and if you can, wear black on the day-of.  In the event of a rain storm, we will meet on Monday, November 20 at the same time and place.

This event is sponsored by the Interfaith Coalition for Earth Justice and partners including GreenFaith, SanDiego350, Third Act So Cal, and CleanEarth4Kids. 
For more information, contact Phil Petrie at phil@icejsd.org.
Additional info:
Please wear black if you can.
**In the event of a rain storm we will meet on Monday, November 20 at the same time and place
Slogans for signage:
Bank Profits=Climate Deaths
End Dirty Investments, Not Human Lives!
Honor Our Dead–End Fossil Fuel Investing NOW!
Life is Sacred.  Bank Profits are Not!
PREVIOUS EVENTS: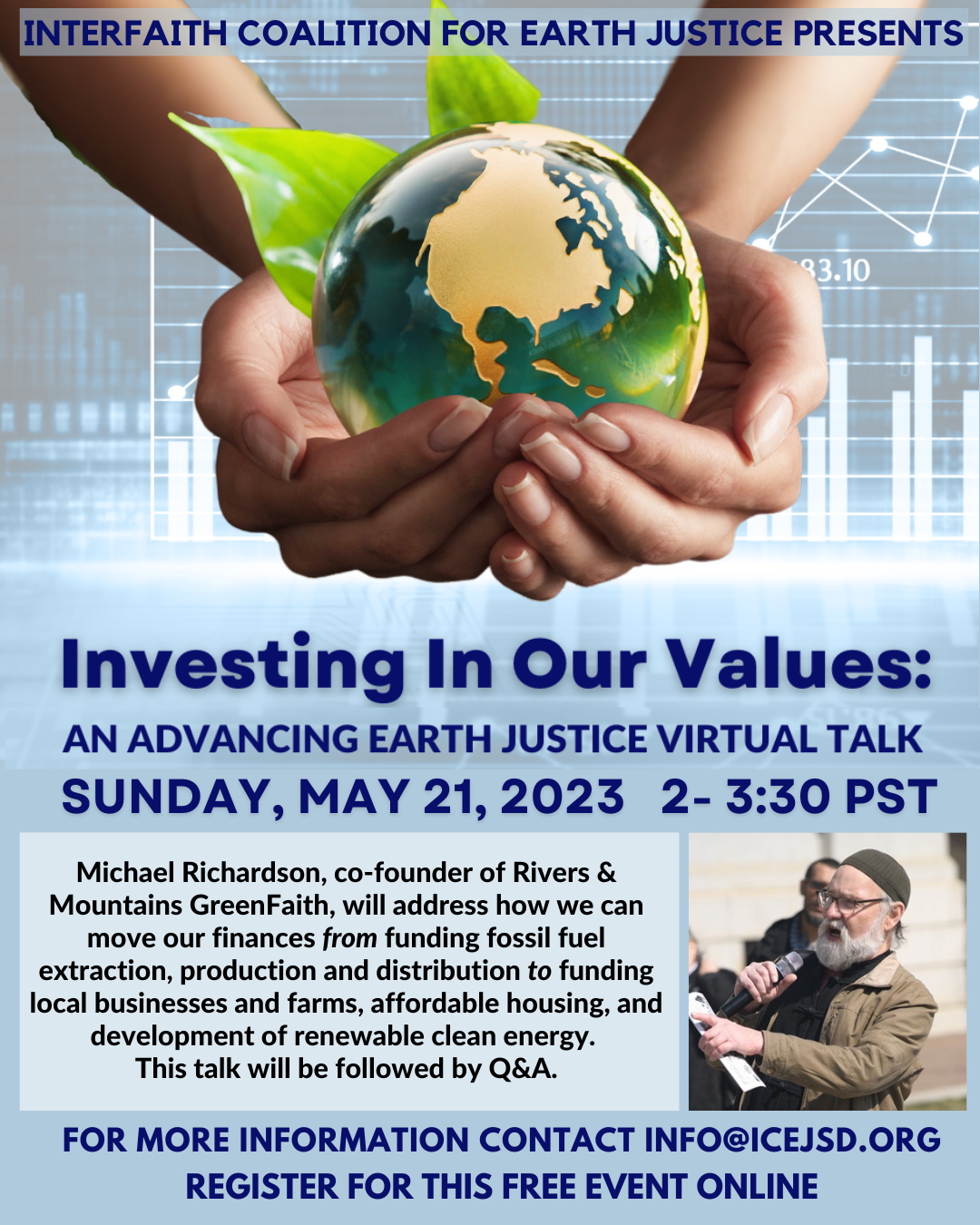 On Sunday, May 21 from 2:00 to 3:30 PM, the Interfaith Coalition for Earth Justice (ICEJ) is proud to present this workshop with Michael Richardson, co-founder of Rivers & Mountains GreenFaith and lifelong activist. Michael will address how we can move finances from funding fossil fuel extraction, production and distribution… and instead direct bank deposits, insurance premiums, and investment portfolios to fund local businesses and farms, affordable housing, and development of renewable clean energy. His activism is driven by the moral imperative to stop funding climate chaos–the same moral imperative that led ICEJ to pressure Chase, Citibank and Wells Fargo to cease loans to the fossil fuel industry. We must keep the pressure on–join us for this workshop to see how to do so most effectively!
For more information, contact: info@icejsd.org
This FREE event is presented by the Interfaith Coalition for Earth Justice
What: Investing in Our Values: An Advancing Earth Justice Series Virtual Event
When: Sunday, May 21, 2 – 3:30 PM
Where: Zoom – Register Online for the Link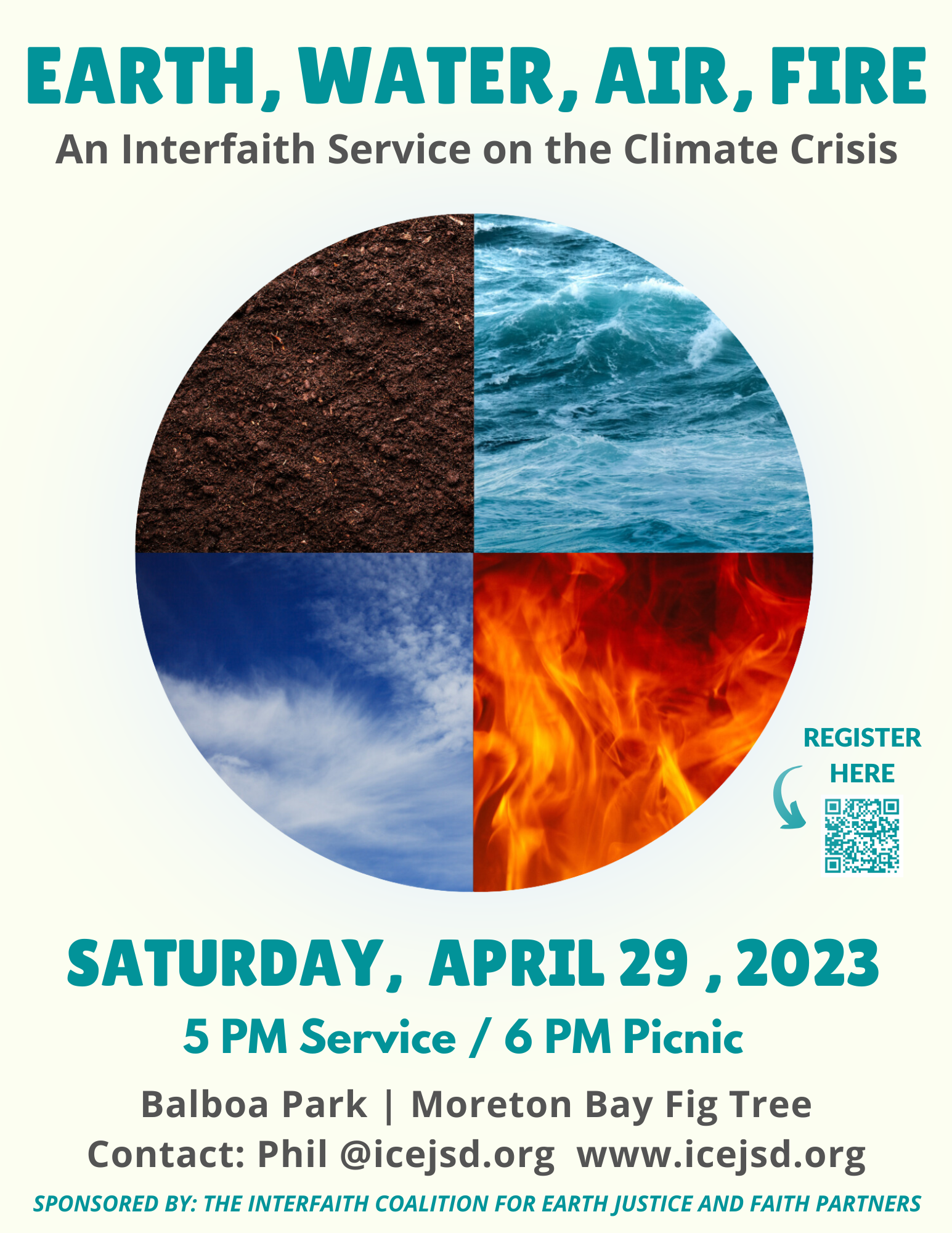 Earth, Water, Air, Fire: An Interfaith Service on the Climate Crisis
As the environmental crisis deepens, we must take action to heal the planet where we have wounded it. For persons of faith that action is rooted in our faith traditions and practices. So we will gather on Saturday, April 29 at 5-6 PM at the Moreton Fig Tree arbor in Balboa Park for an interfaith, interactive and intergenerational service to connect with the Divine presence and build toward a thriving and diverse future. There will be music, hands-on activities and prayers from diverse faiths. This is a family-friendly event and youth are encouraged to participate. Following the service, we host a bring-your-own picnic for community and fellowship. All are invited to attend!!
EVENT DETAILS
What: Earth, Water, Air, Fire: An Interfaith Service on the Climate Crisis
When: Saturday, April 29 @ 5 PM Service | 6 PM Picnic *
* Rain Date: TBD
Where: Balboa Park – Arbor by Moreton Bay Fig Tree, just west of Village Place & Park Blvd
Note: Please bring your own lawn chair and a meal if you are staying for the picnic after.
For Questions and more info, email admin@icejsd.org
This event is sponsored by the Interfaith Coalition for Earth Justice and Faith Partners
REGISTER HERE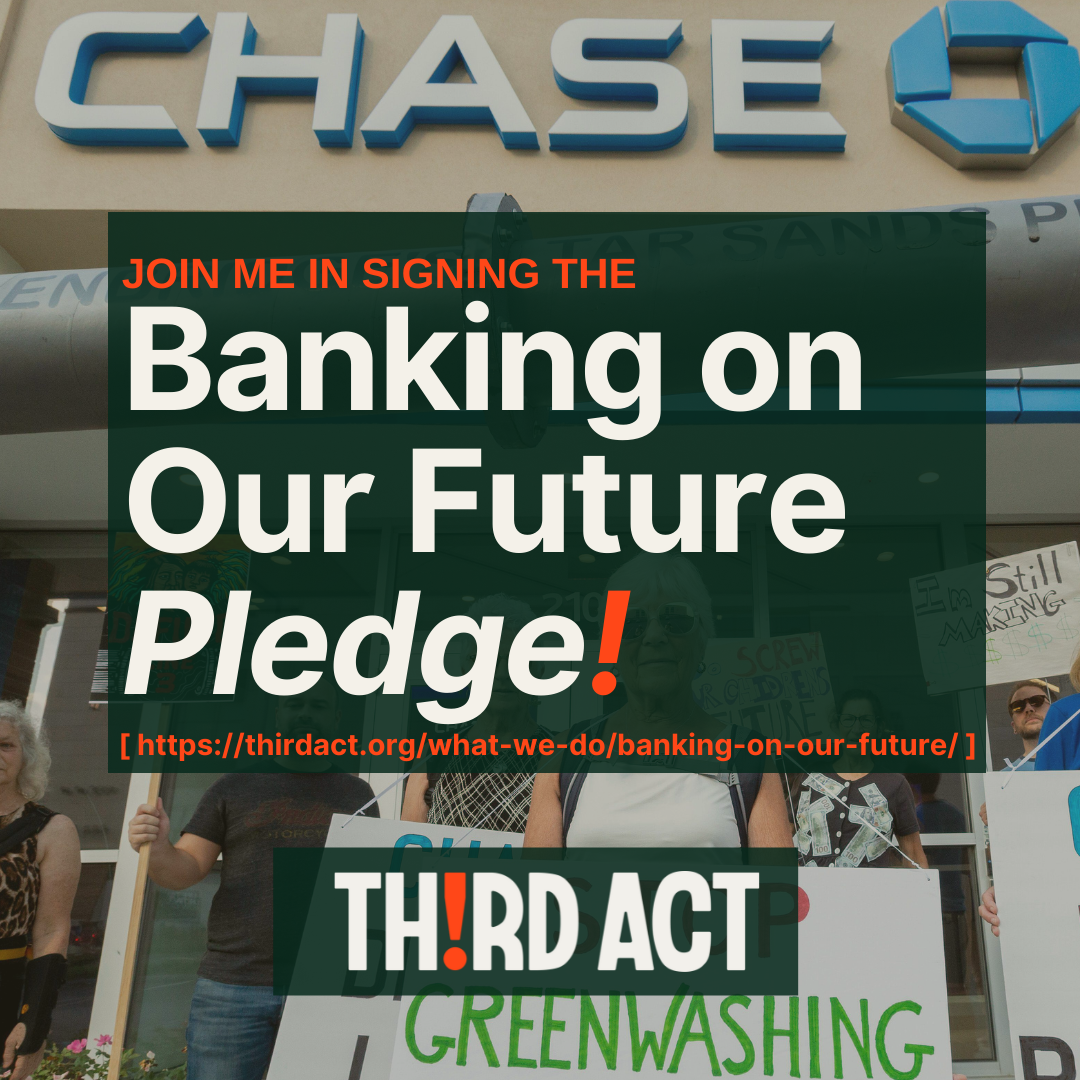 Rally at Chase Bank Tues. March 21st
Last year the International Energy Agency said if we wanted to meet the Paris climate targets "there can be no new investments in oil, gas and coal, from now… from this year."
Be part of Third Act's National Day of Action in San Diego, organized by a coalition of local climate groups. Tell the four major funders of new oil and gas projects—Wells Fargo, Citibank, Chase, and Bank of America—to STOP funding new oil and gas projects or we will move our business elsewhere.
Register Here and show up at 11:30 AM at Chase Bank, 101 West Broadway in downtown San Diego. Bring a sign if you have one.
Here Are Some Other Things You Can Also Do
If you have a checking, saving or credit card account with one of the four banks, move your business elsewhere just before or after the rally. Here are some resources to help you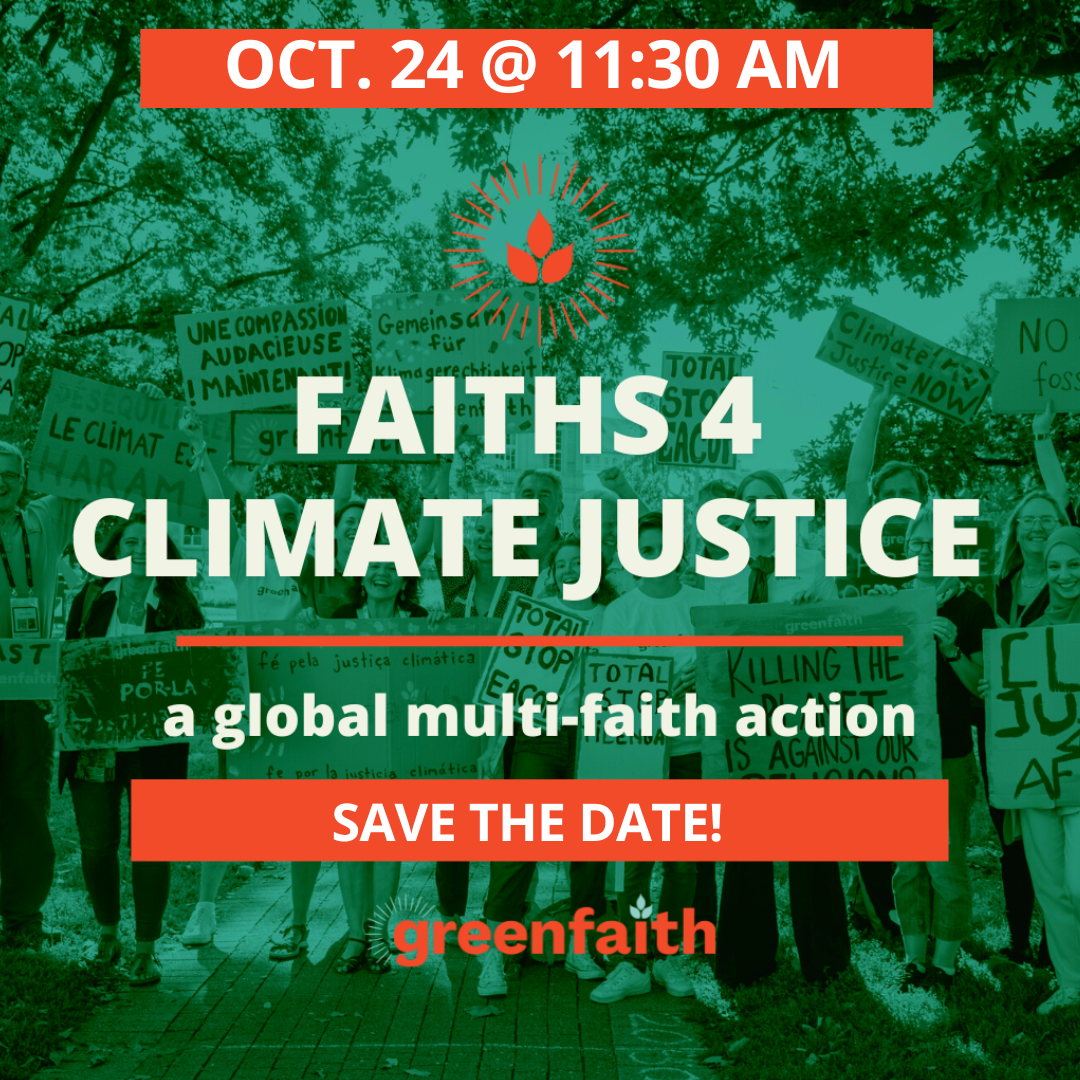 In the spirit of compassion and action, people of faith are called to answer the Earth's cry for care in this climate emergency. On Monday, October 26 from noon to 12:45 pm the Interfaith Coalition for Earth Justice and its members across Southern California will hold a Vigil to call on Wells Fargo Bank to end their investment in fossil fuel projects and support a just transition to 100% renewables.
Immediately end their investment in fossil fuel projects
Immediately invest in 100% renewables and a fair phase-out of current fossil fuel production
Immediately act to invest in companies that provide a just transition for impacted workers and climate-vulnerable communities
This action is part of GreenFaith's Faiths 4 Climate Justice campaign and is projected to be the first in a series of actions at Wells Fargo. We act in solidarity with GreenFaith's global actions, October 4 to November 6, leading up to COP 27, the UN Climate Conference.
Time is running out for any significant impact on global climate disruption. Our faith demands that we ask: if not now, when? If not us, who?
We will gather at Wells Fargo Plaza 401 B St., San Diego. A press conference will be held at 11:30 before the Vigil at 12 noon. For more information, contact Diane Lopez Hughes at dianelopezhughes@me.com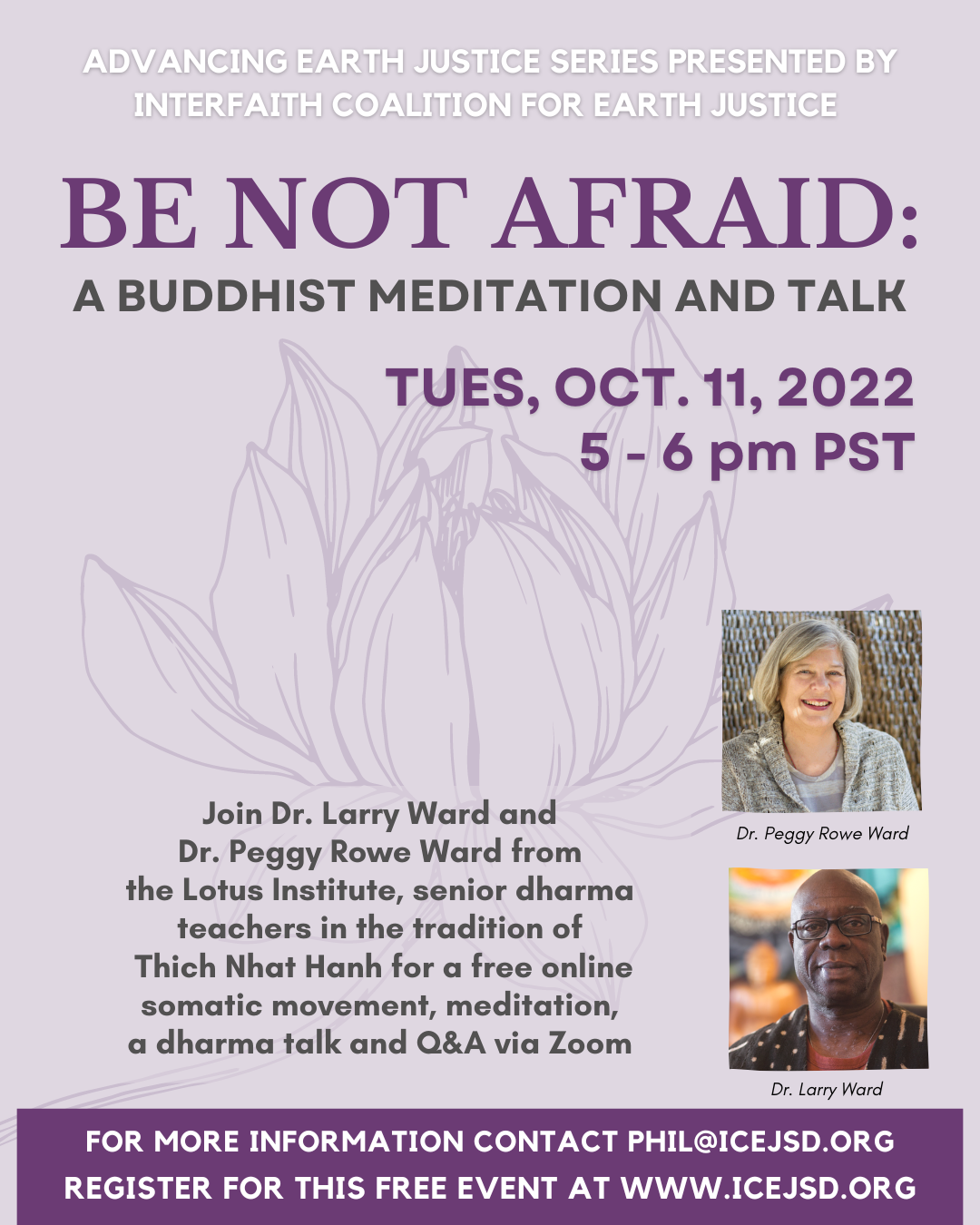 Join two of Thich Nhat Hanh's senior dharma teachers, Dr. Larry Ward and Dr. Peggy Rowe Ward of the Lotus Institute for their talk entitled, Be Not Afraid on Tues. Oct. 11 at 5 – 6 pm PST via Zoom for our 3rd Advancing Earth Justice Speaker Series. Larry is an ordained Christian minister and his doctorate studies were in Buddhism and neuroscience. Peggy focuses on spiritual direction and trauma resiliency. Be Not Afraid is the title of the book that Larry is writing as a follow up to America's Racial Karma. Peggy and Larry also co-authored Love's Garden.
The talk will begin with some somatic movement and include a short meditation, short talk and Q & A session.
This is a FREE event as part of the Interfaith Coalition for Earth Justice's Advancing Earth Justice series.
For more information contact phil@icejsd.org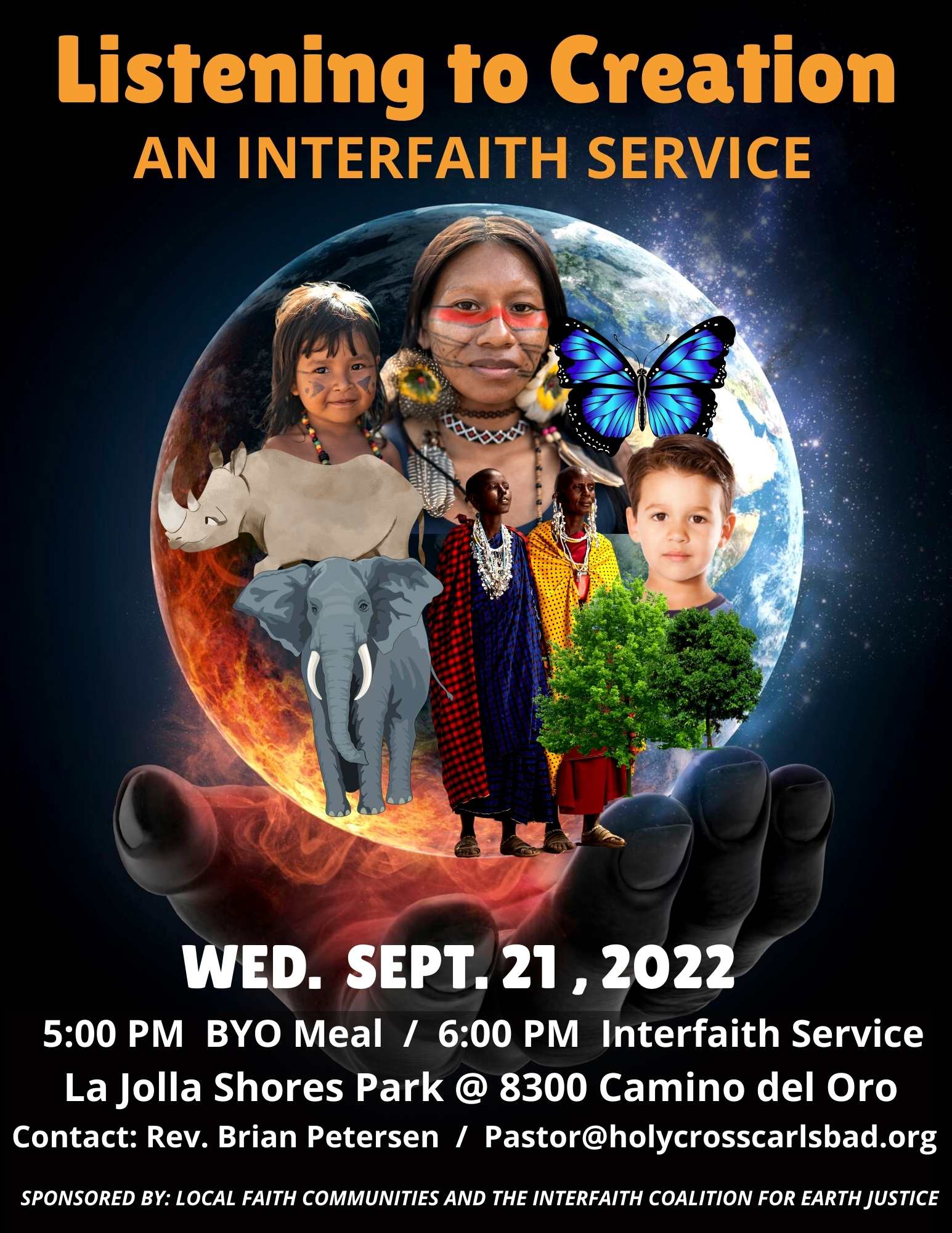 Listening to Creation–Interfaith Service at La Jolla Shores
This summer we have witnessed stifling heat in Europe, flooding in South Korea and India, and massive wildfires and drought in California. Climate change is here and now–and getting worse. As persons of faith we are called to own the problem and move to act.
On Wednesday, September 21 we will hold Listening to Creation: The Earth Speaks–The Time is Now, an interfaith service moving from Lamentation to Stewardship to Joy. All are welcome when we gather at 5:00 pm at La Jolla Shores Park, 8300 Camino del Oro for a BYO meal (please BYO beach chairs too). The service will begin at 6:00 pm and conclude by 6:45. All of our faith traditions call us to attentiveness and deep listening. Out of this attention, we act!!
For more information contact the Rev. Brian Petersen at pastor@holycrosscarlsbad.org.
This event is sponsored by a group of local faith communities and the Interfaith Coalition for Earth Justice.