RECENT EVENTS: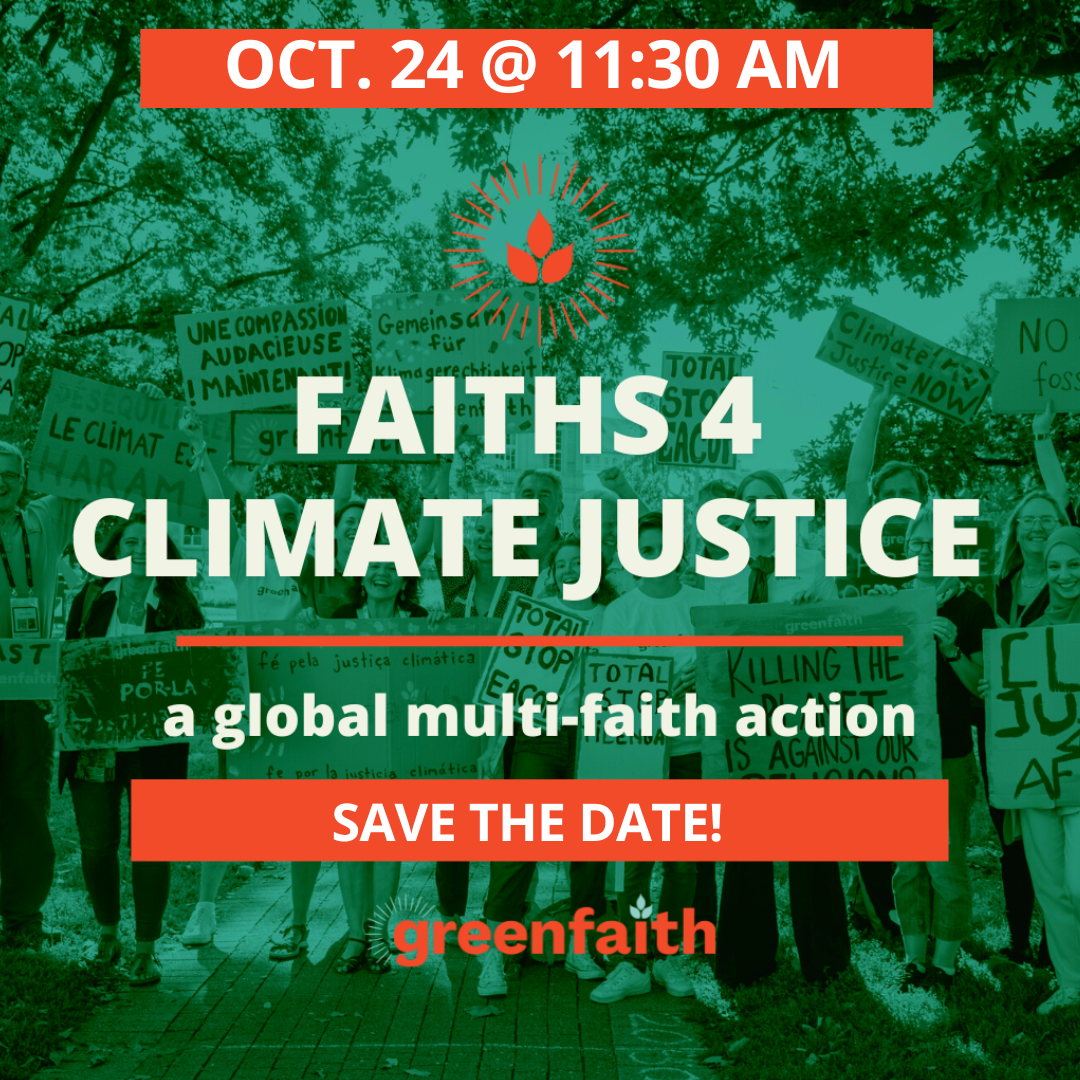 In the spirit of compassion and action, people of faith are called to answer the Earth's cry for care in this climate emergency. On Monday, October 26 from noon to 12:45 pm the Interfaith Coalition for Earth Justice and its members across Southern California will hold a Vigil to call on Wells Fargo Bank to end their investment in fossil fuel projects and support a just transition to 100% renewables.
Immediately end their investment in fossil fuel projects
Immediately invest in 100% renewables and a fair phase-out of current fossil fuel production
Immediately act to invest in companies that provide a just transition for impacted workers and climate-vulnerable communities
This action is part of GreenFaith's Faiths 4 Climate Justice campaign and is projected to be the first in a series of actions at Wells Fargo. We act in solidarity with GreenFaith's global actions, October 4 to November 6, leading up to COP 27, the UN Climate Conference.
Time is running out for any significant impact on global climate disruption. Our faith demands that we ask: if not now, when? If not us, who?
We will gather at Wells Fargo Plaza 401 B St., San Diego. A press conference will be held at 11:30 before the Vigil at 12 noon. For more information, contact Diane Lopez Hughes at dianelopezhughes@me.com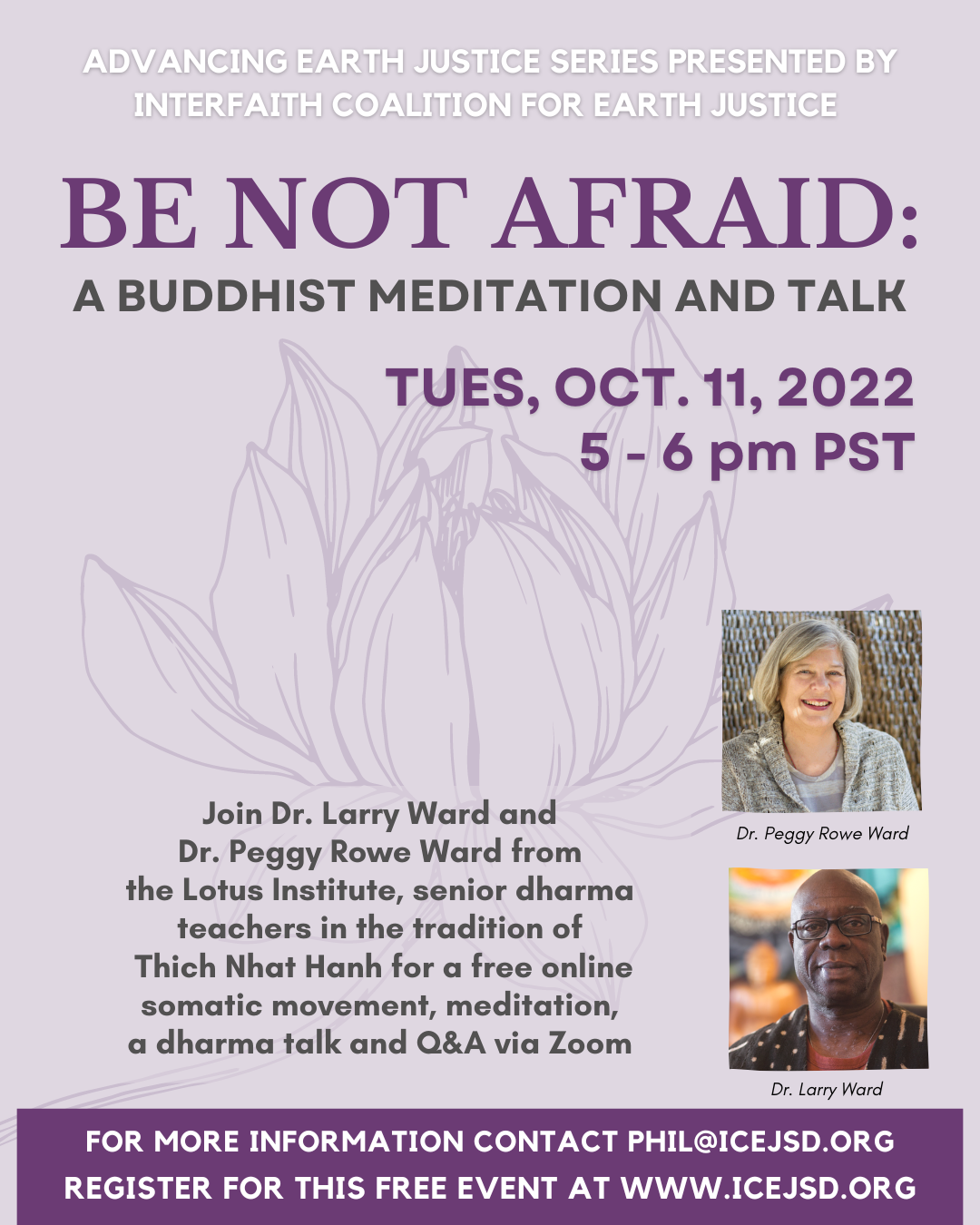 Join two of Thich Nhat Hanh's senior dharma teachers, Dr. Larry Ward and Dr. Peggy Rowe Ward of the Lotus Institute for their talk entitled, Be Not Afraid on Tues. Oct. 11 at 5 – 6 pm PST via Zoom for our 3rd Advancing Earth Justice Speaker Series. Larry is an ordained Christian minister and his doctorate studies were in Buddhism and neuroscience. Peggy focuses on spiritual direction and trauma resiliency. Be Not Afraid is the title of the book that Larry is writing as a follow up to America's Racial Karma. Peggy and Larry also co-authored Love's Garden.
The talk will begin with some somatic movement and include a short meditation, short talk and Q & A session.
This is a FREE event as part of the Interfaith Coalition for Earth Justice's Advancing Earth Justice series.
For more information contact phil@icejsd.org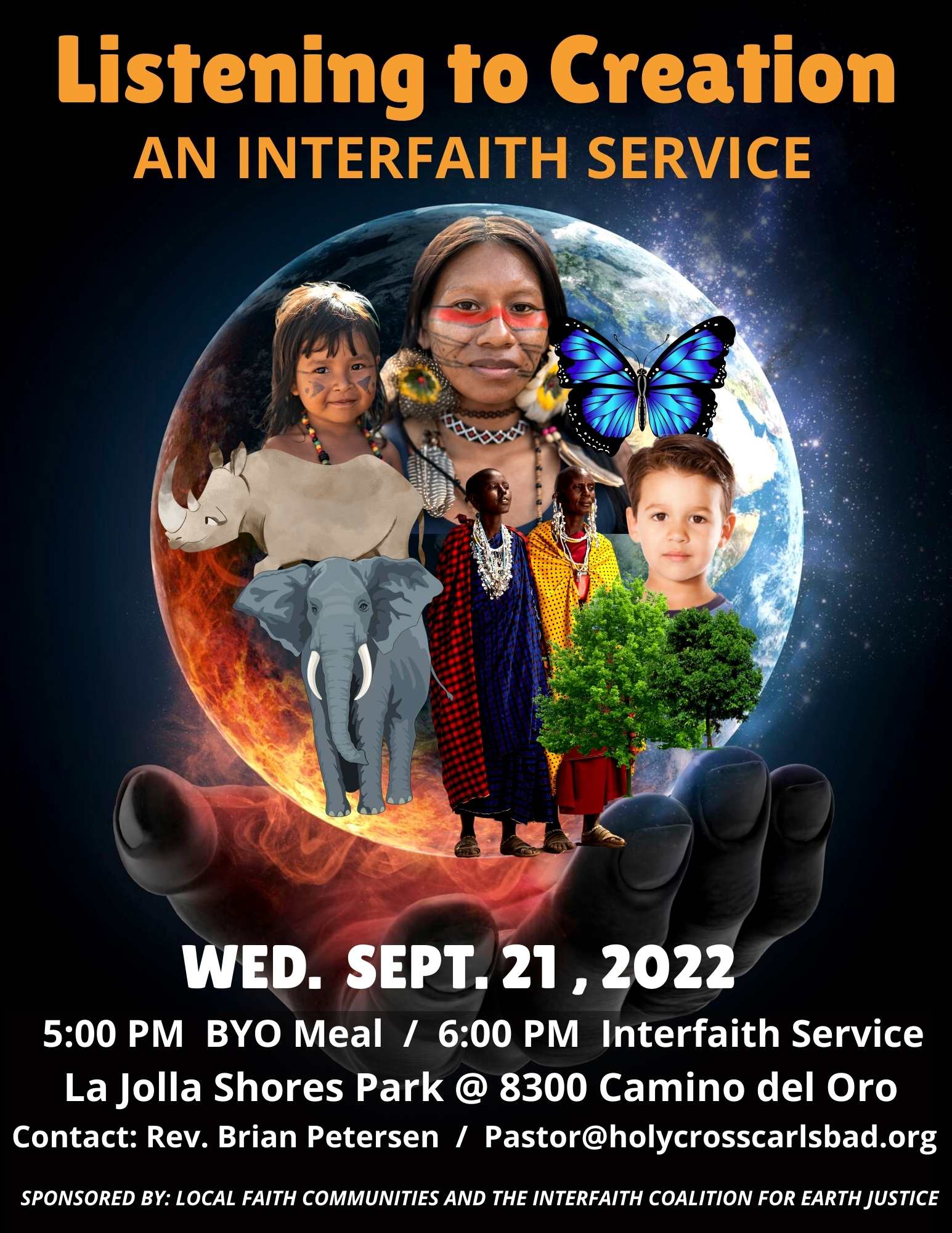 Listening to Creation–Interfaith Service at La Jolla Shores
This summer we have witnessed stifling heat in Europe, flooding in South Korea and India, and massive wildfires and drought in California. Climate change is here and now–and getting worse. As persons of faith we are called to own the problem and move to act.
On Wednesday, September 21 we will hold Listening to Creation: The Earth Speaks–The Time is Now, an interfaith service moving from Lamentation to Stewardship to Joy. All are welcome when we gather at 5:00 pm at La Jolla Shores Park, 8300 Camino del Oro for a BYO meal (please BYO beach chairs too). The service will begin at 6:00 pm and conclude by 6:45. All of our faith traditions call us to attentiveness and deep listening. Out of this attention, we act!!
For more information contact the Rev. Brian Petersen at pastor@holycrosscarlsbad.org.
This event is sponsored by a group of local faith communities and the Interfaith Coalition for Earth Justice.