Faiths 4 Climate Justice Rally and Resources
October 15, 2021

-

October 18, 2021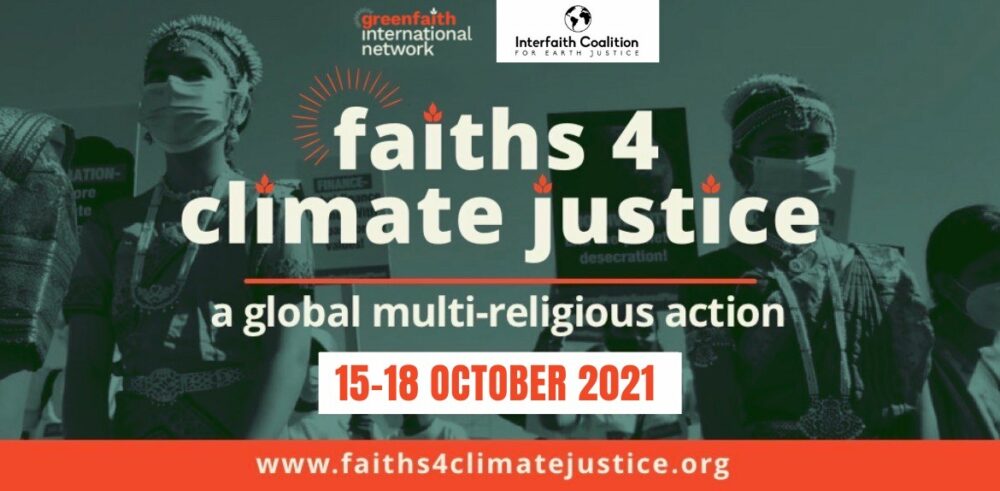 Destroying the planet is against our religion!  Two weeks before the UN's global climate negotiations in Glasgow, faith communities around the world will rise up to urge our political and financial leaders to take action.  Using an international climate activist platform created by GreenFaith, the Interfaith Coalition for Earth Justice (ICEJ) will sponsor two projects in San Diego:
Fri. Oct. 15-Sun. Oct. 17

–faith communities will call for climate justice using the riches of their own traditions and resources (

here

) provided by GreenFaith and ICEJ

Mon. Oct. 18  1:00 – 2:15 PM

–faith communities and their supporters will come together for the

Faiths 4 Climate Justice Rally at the County Administration Building on the west side at the fountain, 1600 Pacific Highway, to present 5 key demands on climate and equity.  We ask that these demands be prioritized in the County's Regional Decarbonization Framework.  Our Rally will also feature music, street theatre, reflections and prayers from a diversity of faith traditions.  Co-sponsors include SanDiego350

and the

CA Poor People's Campaign.
Demands:
Invest in green infrastructure for environmentally impacted communities
Transition rapidly to 100% renewable energy
Focus on the creation of local green jobs for underserved communities and a just transition for fossil fuel workers
Prioritize marginalized communities when designing sustainable transit solutions
Reach zero carbon for SD County by 2030
Please join us to witness our care for the earth and for the poor.  We will make our voices heard! For more information, contact us here. Check out and share our flyer!
More advocacy resources are available here.
If you attend the event, please upload any photos or videos you would like to share on this Google Drive!