Minister Clovis Honoré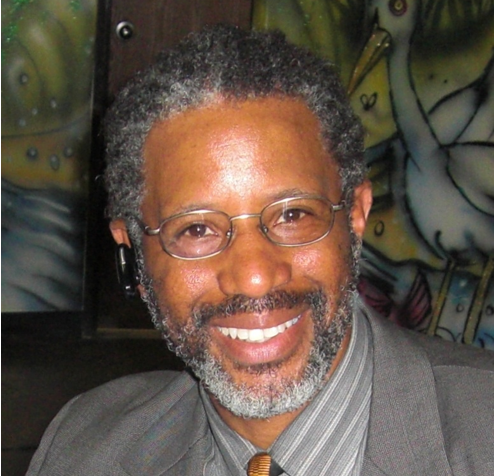 Born and raised in South Central Los Angeles, Clovis Honoré grew up amidst the social turbulence of the 1960s and the cultural renaissance of the 1970s on the west side of South Central Los Angeles. He graduated from Los Angeles High School and entered San Diego State University in 1978.  Once at SDSU, he became involved in the social, cultural and political life of San Diego's African American community. He pledged Alpha Phi Alpha Fraternity, Inc., and was twice President of the Black Student Council/Afrikan Student Union. Honoré graduated from San Diego State University with a degree in Political Science and African American Studies.
After more than 20 years of education, work and family life in San Diego, Honoré sought to rekindle the many dynamic relationships he had developed in his college years. In 1998 he joined the United African American Ministerial Action Council as a volunteer and was brought on staff as a community organizer in 2003. Through his community work Clovis has advocated for social justice and equity serving on boards and organizations including as the Interim Executive Director of United African American Ministerial Action Council (UAAMAC), Executive Director of San Diego Area Congregations for Change, Board Member of the Alliance for African Assistance, Chair of the Alliance Health Clinic, and President of San Diego Black Health Associates. Clovis is currently an Adjunct Minister and Chair of the Social Justice Ministry Board at Christian Fellowship Congregational Church in Emerald Hills, Social Justice Editor of Indian Voices, Immediate Past President of the San Diego Branch of the National Association for the Advancement of Colored People (NAACP), sits on the Community Advisory Board of the San Diego Union-Tribune newspaper and continues to support many other community groups in San Diego, including the San Diego Green New Deal Alliance; Justice, Equity, Diversity and Inclusion Workingroup (JEDI – Co-Chair), Racial Justice Coalition, and A New PATH (Parents for Addiction Healing and Treatment). 
Clovis currently works as an Outreach Coordinator for GRID Alternatives, an environmental justice non-profit that installs free solar systems on the homes of low to moderate income families.