Diane Lopez Hughes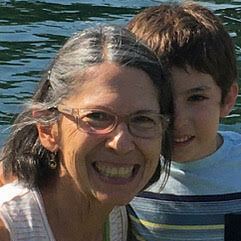 Diane Lopez Hughes is a member of St Paul's Cathedral in San Diego and the convener of its Simpler Living ministry and a member of the Sacred Ground in Action (anti-racism) task force.  She is co-leader of the Episcopal Diocese in San Diego Creation Care Task Force and a member of SanDiego350.  
Diane has cared for Creation since forays during graduate school into the Grand Tetons and continues in her love of Joshua Tree National Park, the Mojave Preserve, our beautiful Pacific Ocean, and anywhere we can walk and be present with nature.  Born and raised in Chicago, her husband Pat and she moved to Springfield, IL and raised their two sons, Devin (a symphony conductor living with his wife Molly in Boulder, CO) and Brendan (an attorney, living in Point Loma with his wife Lesley and children Kieran and Nolina).  She moved to Joshua Tree to help with her newborn grandson, then to San Diego with her son's family as Brendan attended California Western School of Law.  Diane lives happily near her grandchildren in Point Loma.
In intersectional work is our hope for the future, paraphrasing the words of John Muir that "everything is hitched to everything else." As we listen increasingly to the wisdom of our Indigenous neighbors, we can learn and promote a healthier way to be with Earth.  We do this work for all creation, and somewhat selfishly, for our grandchildren and those who will come after them.